Leveraged exchange-traded fund (ETF) product is a marketable security that uses financial derivatives and debt to amplify the returns of an underlying index. While a traditional exchange-traded fund typically tracks the securities in its underlying index on a one-to-one basis, a leveraged ETF product's rise and fall are three times the rise and fall of its underlying asset. Users do not need to pay the collateral assets to achieve the effect of leveraged transactions on the target assets. The product has no expiration date and no risk of liquidation.
The operating process of leveraged ETF products is similar to currency trading. The overall process is: login to the BigONE account - click on the ETF section on the homepage - click on the buy/sell selection.
The detailed graphic tutorial is as follows:
Before conducting ETF transactions, please register your BigONE account in advance and complete the relevant identity verification. Please refer to the link for the specific process:
Enter the ETF area

Login to your BigONE account (

www.bigone.com

);

In the top navigation bar, click ETF to enter the ETF trading interface, please read the disclaimer carefully and agree.
On the left side of the ETF area interface, you can view the currently online ETF products, and the right side is the product market data
Trading ETF products
Select the product you want to trade in the ETF trading area on the left. Take "BTC3L" as an example, or you can select it through the "Search" function.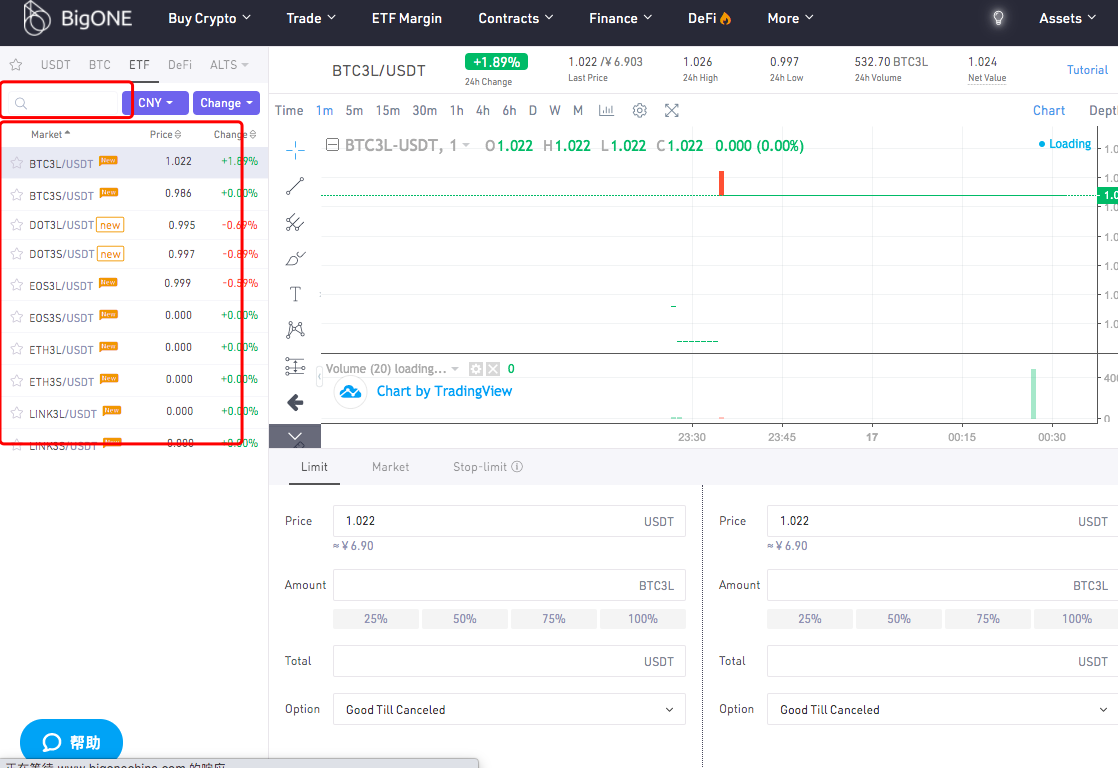 On the "ETF" trading interface, you can select [Limit Price], [Market Price] or [Price Trigger] to buy or sell as needed.
[Price Limit] is a pending order transaction, you can set a buy or sell price, and the transaction can be done when the market price fluctuates to the price set by yourself. Select limit transaction-enter the price and quantity, click "buy" or "sell"-complete the order.
【Market Price】The market transaction price shall prevail. After placing an order, the system will automatically select the best market price for the transaction. Select market price transaction-enter the quantity, click "buy" or "sell"-complete the order.
[Price Trigger] The trigger price and the order price after the trigger and the order quantity can be preset. When the latest price reaches the trigger price, the system will place the order at the preset order price and order quantity.
After the order is successfully placed, you can view the details in the "Limit Order" and "Take Profit and Stop Loss" orders at the bottom of the interface.
Tips:
Note: At present, all ETF products of BigONE are priced in USDT, and each token supports 3 times long (3X Long) and 3 times short (3X Short).
ETF is an emerging financial derivative. It greatly reduces the risk of liquidation and liquidation. However, under extreme market conditions, there will be risks of approaching zero and liquidation. Please pay attention to the difference between net value and price to avoid losses.