Enter BigONE official website and log in to your account;
Click on the "Polkadot" button in the homepage navigation bar to enter the page;
On the right side of the Polkadot page is the DOT slot auction. Enter the amount of DOT you want to lock in the box below the amount of participation. The minimum amount of locked DOT is 1. In the event that you do not have enough DOT to participate in the lock-up, you can purchase DOT through BigONE's spot trading function or you can transfer your DOT in other BigONE accounts to your BigONE funding account by clicking the "Transfer" button below.
An example is shown in the following figure. Please enter the quantity "1" in the participation amount box and tick the "I have read and agree to the "User Service Agreement" box. Click the "Confirm" button, enter the password to stake DOT.
Once the DOT lock is successful, the page will show "Successfully Participation". You may click "View Positions" to enter the page.
After entering the My Positions page, you can view information such as position details, reward details, and redemption history. When the Polkadot Parachain slot auction is over, based on your locked DOT record, BigONE will issue BDOT to you at a ratio of 1:1 to release the liquidity of the locked DOT. The time and quantity of BDOT issuance shall be subject to the actual arrival of the BDOT. BigONE will also issue a corresponding amount of crowd loan project party reward tokens in proportion to the number of users' BDOT. It should be noted that BDOT is the only voucher for users to get rewards at BigONE.
Click the "Invite Friends" button to invite your friends to participate in the DOT slot auction and enjoy more rewards BigONE will charge 10% of the reward tokens obtained by the user as a handling fee and put part of the handling fee into the invitation reward library of BigONE Polkadot Parachain slot auction products. There is a certain percentage of invitation rewards that goes to users who are related to the inviter or the invitee;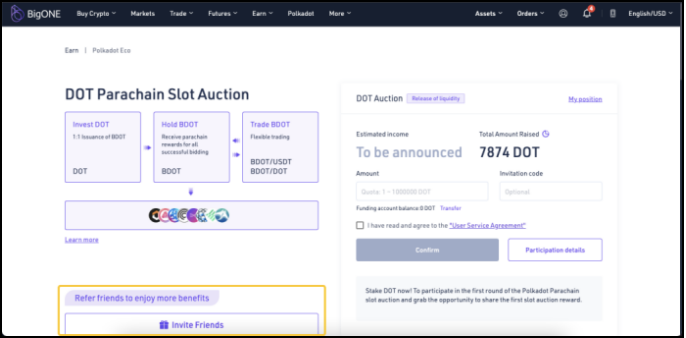 By completing the above steps, you will have successfully participated in BigONE's DOT slot auction. BigONE will use the Smart Pool method and choose the optimal strategy for the Polkadot Parachain slot auction based on a reasonable fund allocation. Users can share multiple rewards for all successful bidding in the Polkadot Parachain slot auction. For more information about the DOT slot auction, you can log in to the BigONE cryptocurrency exchange or contact online customer service.