1. Enter BigONE official website https://bigone.com complete the following procedure, register, real-name authentication, set up collection and payment methods, or bind bank cards, set up payment password, Google secondary verification code, merchant nickname and etc.
2. After BigONE obtains the fiat currency merchant permissions, you may publish advertisements. At this stage, only operations and advertisements on the computer website are supported (in the future, advertisements on the mobile App will be supported);
3. Click the menu bar at the top of the homepage select "Buy Crypto" on the left;
4. After entering, click "Ads" on the top right;

5. Click "Publish ad";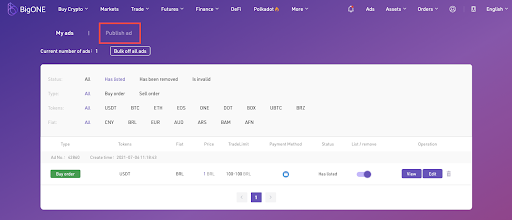 6. Read "Ad Publishing Notice";
7. Select "Buy" for "Trade Type" (from user Where to buy coins, the user is the seller) or "Sell" (sell coins to the user, the user is the buyer);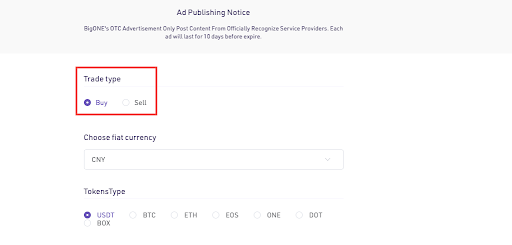 8. According to your own preferences and needs, choose the type of fiat currency you want to pay or accept under "Choose fiat currency";
9. Select "Tokens Type" according to your own preferences and needs,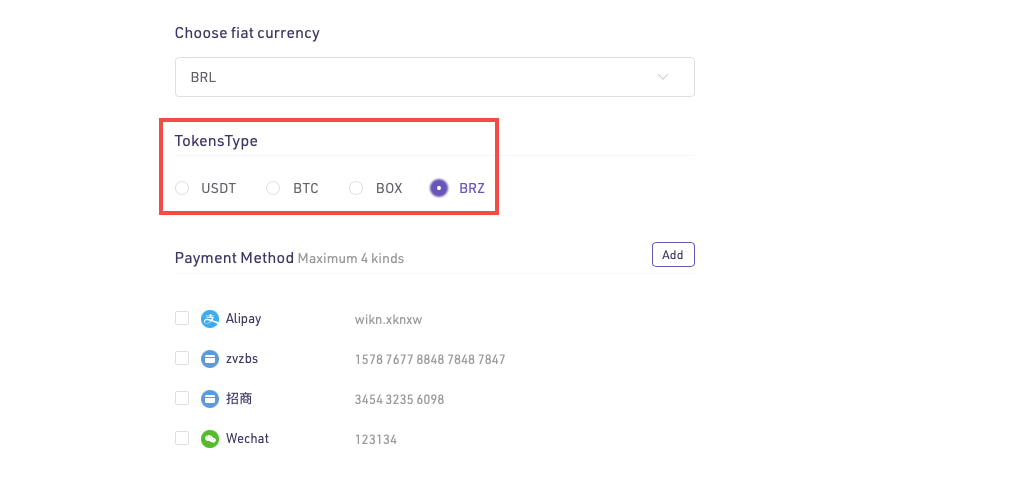 10. Choose "Payment Method";
11. Set "Trade Limit" according to your own preferences and needs, including "Minimum amount" setting and "Buy amount" setting;
12. Choose "Set price" according to your own preferences and needs. For BRL, currently only supports "Fixed price", and then enter a reasonable price in the "Price" box;
13. Choose according to your own preferences and needs for the "Trade setting", "Trade reference No." can be set to "Show" or "Hide", "Trade with the Merchant" can be selected with "Trade" or "Do not trade";
14. After all options are set, please Read "Remark" and "Note" carefully, then tick "I confirm that the information provided above is correct" and click "Publish now";
15. Click "My ads" and you will see the advertisement you just posted;
16. You can use the functions of "List/remove", "View", "Edit" and "Is invalid" to manage them;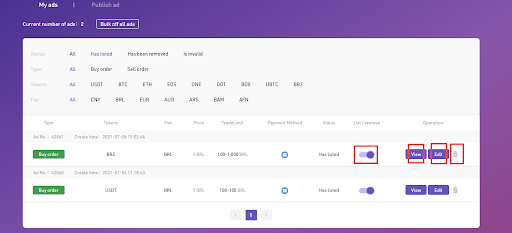 17. When you click the "Edit" button to enter, you can only edit and modify under the four contents of "Payment Method", "Trade Limit", "Set price" and "Trade setting", Others cannot be modified;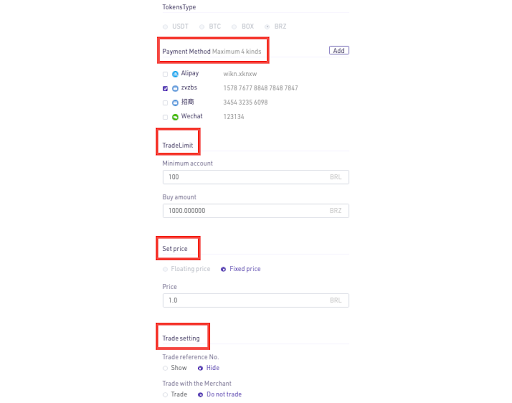 If you are not satisfied with the advertisement that has just been published, you can choose to delete or remove the advertisement, and then re-publish an advertisement. For the same cryptocurrency, each merchant can publish two advertisements at most;
You can also view the "Instructions for buying and selling in the fiat currency trading zone", "Merchant advertising ranking and transaction rate rules" and more under " OTC Trading"-"C2C Merchant and User Management" on BigONE's official website.