Dear BigONE users,
To celebrate the upcoming 8th anniversary of Litecoin and the halving of Litecoin. BitUniverse and Litecoin (LTC) and BigONE hold the very first cross-exchange Grid Trading Tournament and give away 66 LTC to all the participants.
Time: 2019/08/21 02:00 ~ 2019/08/31 02:00 (UTC)
Annualized Profit King — 66 LTC to Give Away for 50 Winners
You're able to create multiple bots. The highest annualized profit will be recorded as your score on the leaderboard.
To be eligible for the award, you need to create a Litecoin Grid Trading Bot and meet the requirements:
Start an LTC grid trading bot (LTC/XX) with more than $500 USDT.
The bot should generate more than 50 transactions and last for more than 48 hours.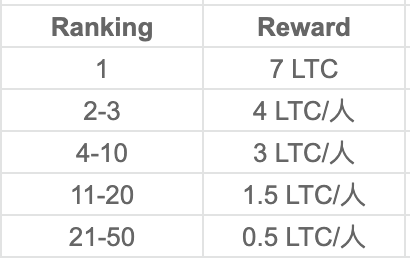 Reminder:
The final rewards will be given out to participants from different exchanges include BigONE.
Your trade should be effective trade which means you can't trade between your two accounts or trade by one account.
Anyone who violates the basic rules of trading will be canceled the right to participate in this tournament.
BitUniverse will give out the awards to winners' BigONE accounts two weeks after the tournament ends.
BigONE and BitUniverse will not take any responsibility for participants' investment results. Please be cautious about investment risk.
BigONE and BitUniverse hold the ultimate explanation right of this tournament.
Thanks for continuous support and love.
BigONE Team
August 21, 2019