Dear BigONE users,
BigONE second round of Voting for Listing has completed at 04:00:00 (UTC) on July 30, 2019.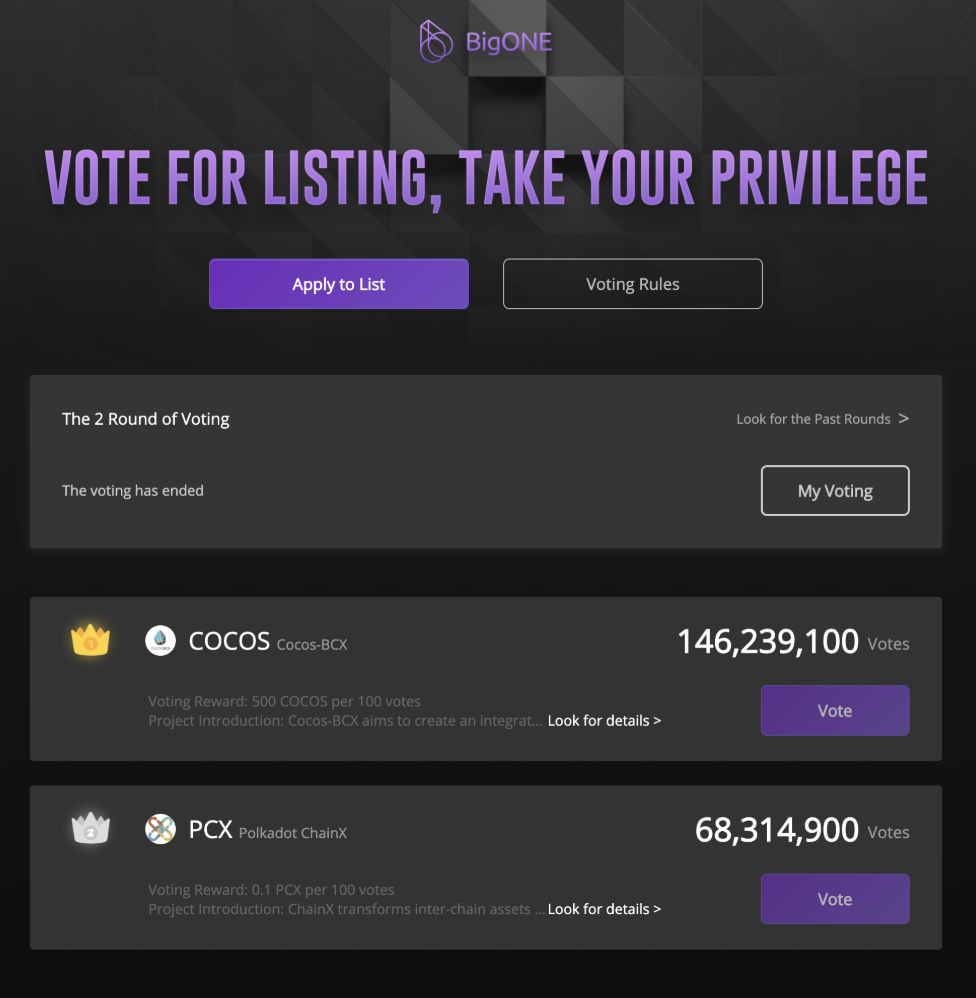 Because COCOS, PCX both got more than 1 million ONE votes, BigONE will list COCOS, PCX in order.
We will list COCOS/USDT, COCOS/BTC, COCOS/ONE trading pairs at 06:00:00 (UTC), on July 30 and list PCX/USDT, PCX/BTC, PCX/ONE trading pairs at 04:00:00 (UTC) on July 31.
The deposit service of PCX has been opened and we will open the withdrawal service at 04:00:00 (UTC) on August 3. The deposit and withdrawal services of COCOS haven't been opened now, but the exact time to open will be announced later.
According to the rules of our second round of Voting for Listing, the ONE voted has surpassed the upside amount that we can destroy. Thus, we will distribute project tokens according to the proportion our users voted and destroy part of their ONE voted. As to COCOS, each 100,000 ONE voted will lead to 10,393 ONE destroyed and 51,965 COCOS given out. As to PCX, each 100,000 ONE will lead to 1,463 ONE destroyed and 1.463 PCX given out. COCOS and PCX are being distributed now. Please wait patiently.
The amount of ONE that will be destroyed in this round is 16.2 million. We will announce it after destroy. The ONE that not destroyed will become unfrozen in a while.
We will announce the 3 users who get super rewards at 10:00:00 (UTC) on July 30.
The third round of Voting for Listing is on the way. And there will be a requirement that users must hold at least 100,000 ONE for a week to get the voting qualification.
Thanks for your continuous support and love.
BigONE Team
July 30, 2019