Dear BigONE Users:
In order to celebrate the launch of the "BigONE Trading Fee Upgrading System", we will open the "Deposit, Trade, Transfer to get VIP Privileges and Enjoy Ultra-Low Trading Fee" activities.
Activity time: 05:00:00 April 18 ~ 05:00:00 April 25, 2019(UTC)
1. Trade to Get VIP
a. During the event period, we have calculated the accumulated transaction volume of all trading users, so that you can enjoy our VIP level service in a faster time and at a lower cost. See the following table for more details: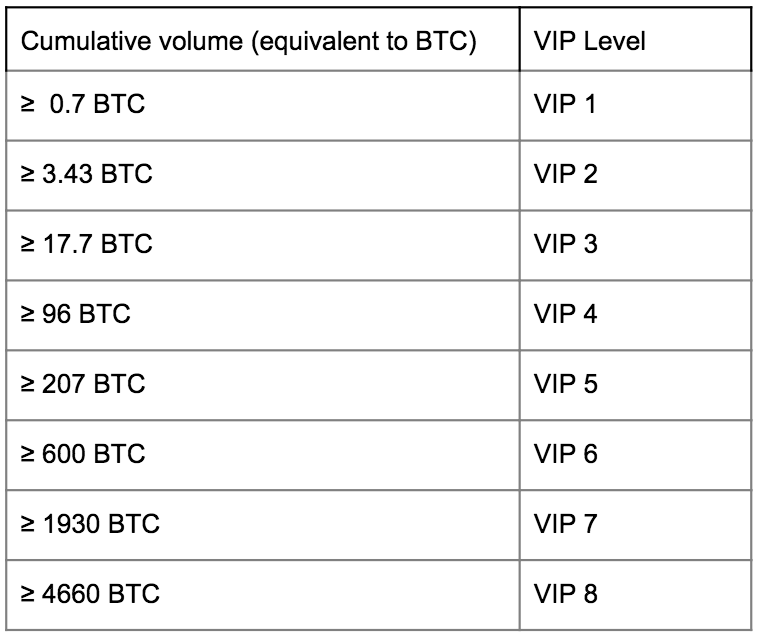 b. Amongst the 12 trading pairs in the USDT trading area, the user with the highest trading volume during the activity period, we will add another level above the corresponding VIP level according to the rules, and you can get the N+1 VIP level reward. . (N is the VIP level that users can get according to the transaction volume)
2. Deposit to Get VIP
During the event, the user can receive a VIP Privilege once deposit any cryptocurrencies supported by BigONE.
BigONE will convert the user's net deposit amount (deposit amount - withdrawal amount) into USDT according to the daily average transaction price of the deposit cryptocurrency. If there is no transaction on the day of the cryptocurrency, the average daily transaction price of the day of the most recent trading day is taken.
3. Transfer to Get VIP
Follow @程君-BigONE and transfer this activity in Weibo, BigONE will randomly select 10 lucky users and give away 1000 ONE and BigONE VIP 2 fee discounts.
【Tips】
The VIP privileges given by this event are valid for 30 days and are not subject to the "BigONE Trading Fee Upgrading System".

During the event, if the same user receives multiple VIP privileges, the highest-level VIP benefit will be taken as the final event reward for the current period;

The VIP benefits will be awarded within 7 working days after the event.

The rights and benefits obtained by users participating in this activity and the benefits obtained by users in the "BigONE Trading Fee Upgrading System" will be given the highest level of interest to the user.
The final interpretation of the event belongs to BigONE.
BigONE Thank you for your continued support and understanding.
BigONE team
April 18, 2019