Blockchain asset transfer requires three steps to confirm
(1) Withdrawal party pays out
(2) Block confirmation on the chain
(3) BigONE Deposit
When you withdraw, if the status of the withdrawal platform shows "completed" or "success", it means that the transfer has been successfully remitted from the withdrawal platform to the block, but this does not mean that the transfer has been successfully posted on the deposit portal.
According to the characteristics of different public chains, each transfer in a block is sent to the deposit portal, the time to be confirmed is different, and the number of blocks to be confirmed is also different. For example, BTC public chain transfer requires 1 block confirmation, while ERC20 Block transfer requires 12 block confirmations.
Unpredictable block congestion often occurs on the blockchain due to the excessive number of transfers, which affects the transfer speed. Use the transfer ID (TxID) to check the transfer status in the block.
If your deposit assets have not arrived, please follow the steps below to check:
If the transfer is not found in the blockchain browser, it may have not been sent to the block or sent correctly, please contact the withdrawal platform to inquire;

If you can find the transfer in the blockchain browser, but your BigONE account is not credited, please contact our online customer service and provide the TxID and the currency name, quantity and time of the deposit. Our customer service specialist will further confirm for you.
How to enter the block explorer for query?
Log in to your BigONE account, enter the "Funds Account", click "Deposit and Withdrawal History", select the withdrawal record you want to query on the "Deposit and Withdrawal History" page, and click the icon under "TXID";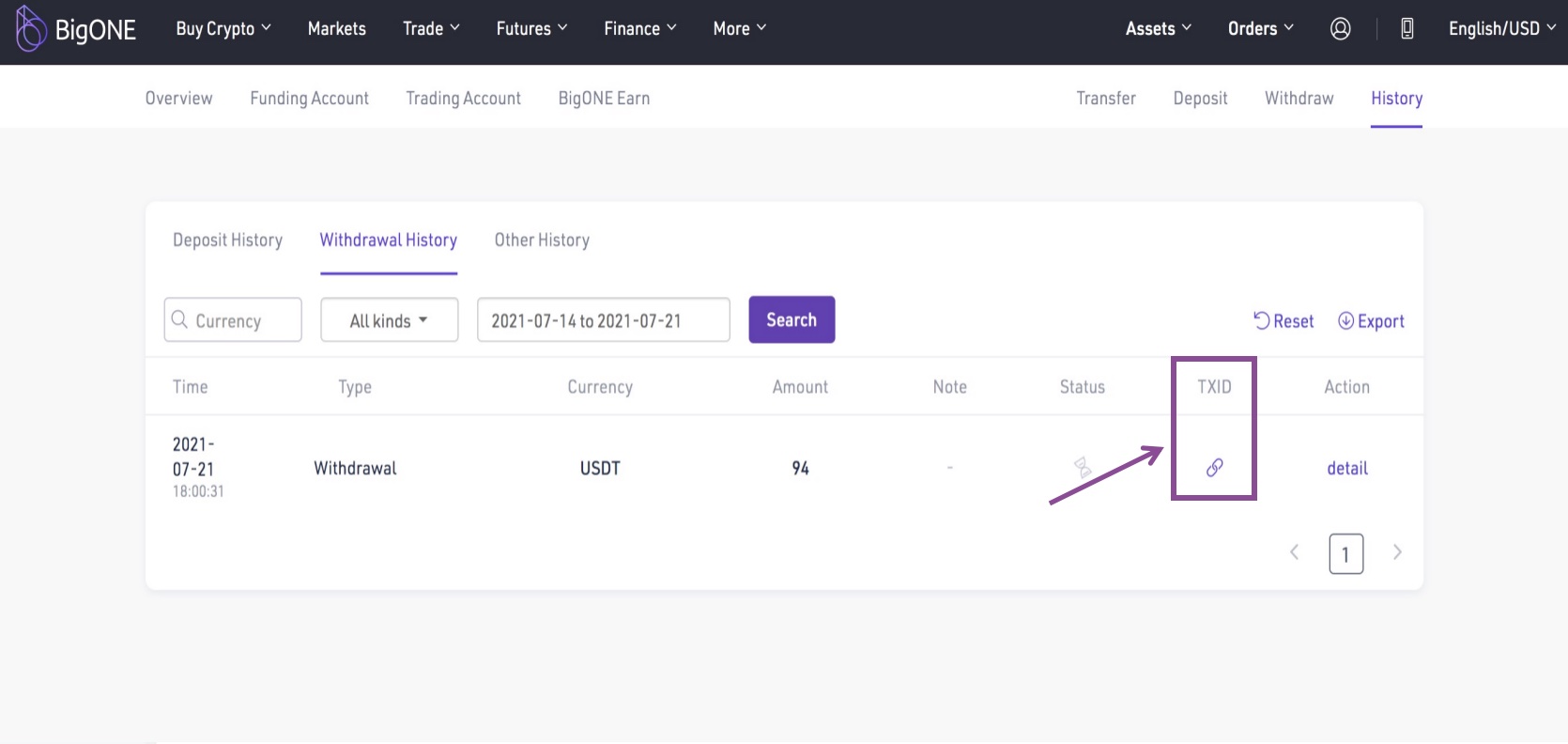 The page will jump to the corresponding block explorer. In the block explorer, you can query the detailed information of the transfer, such as TXID, transfer result, transfer status, etc.